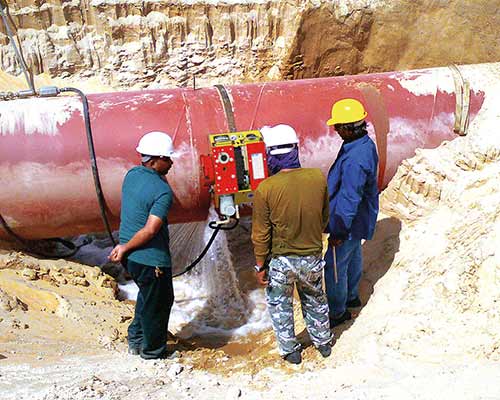 Since its introduction in 1949, Wachs Trav-L-Cutter has been a tried and true machine tool used to cold cut pipe and vessels, now updated to SD Super Duty specification with new heavy duty internal components. Used in every corner of the world, the Trav-L-Cutter SD utilizes a combination mounting/drive chain that allows the machine to fit on any diameter pipe by simply adding chain sections. It drives itself around the OD of the pipe on the mounting chain while simultaneously cutting.
Offered as a Model E with pneumatic drive or a Model HE with sealed hydraulic drive, the Trav-L-Cutter SD is designed to operate horizontally, vertically or anything in between, even when fully submersed. Wachs Trav-L-Cutter will accommodate pipe sizes from 6in-72in O.D. (DN150–1800); optional drive chain sections required for O.D. greater than 48in.
Includes standard drive chain 02-450-48 for 6 to 48in (DN150-1200) diameter pipe, operating hand tools, manual and steel storage case.
Model E Air Kit Part #02-0000-01
Trav-L-Cutter SD Model E Air Kit comes complete with twin HD air drive motors (with carriage drive reversible), air line lubricator and filter.
Model HE Hyd Kit Part #02-0000-02
Trav-L-Cutter SD Model HE Hydraulic Kit is suitable for water immersion. Kit includes twin HD hydraulic drives, reversing valves and speed control.
Optional #02-450-72 drive chain extension, increases capacity to 72in (DN1800) diameter.