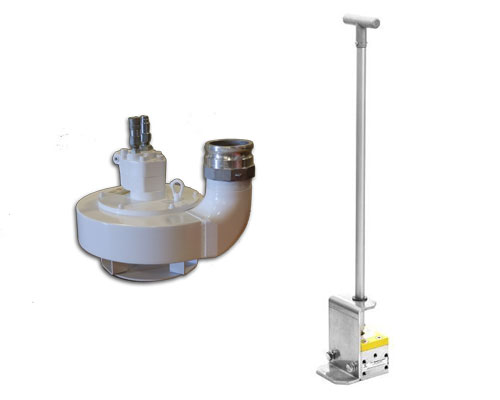 Valve Maintenance Accessories
Wachs Utility Products offers class leading valve exercising trailers, skid and truck mounted systems in a wide range of sizes and types to fit your organization's needs. In addition Wachs offers a full range of accessories designed to enhance your teams productivity in the field, making us your single source for many of the tools needed to maintain your valuable water infrastructure.
Wachs unique Valve Nut Rx system is a prime example of a product often required by crews in the field. It's designed to save time and money by replacing rounded or missing operating valve nuts with new, long-lasting stainless steel replacement nuts, rather than replacing the valve itself. It includes an extractor tool arm to reach down inside the vault to remove the old operating nut, and an installation tool arm to install the new nut on the valve. Stainless steel replacement nuts are available singly or in kits once the initial supply is expended.
Other products include our Valve Box Buddy, an electromagnetic device for lifting steel and iron box covers while standing, designed to help prevent back injuries. Wachs offers two models of hydraulically powered submersible pumps, with the largest able to pump sludge and solids up to 3 inches. To power these and other hydraulic tools including our hydraulic breaker and replacement points, chisels and cutters, we offer two HPU hydraulic power units. Wachs telescoping and compact valve keys are available in various lengths and styles to reach down to valve operating nuts. And we offer a full range of replacement parts, filters and consumables.
Wachs accessories and parts needed for routine valve maintenance include:
Valve Nut Rx system for in situ replacement of worn or lost AWWA 2 inch valve operating nuts
Valve Box Buddy for lifting cast iron utility and valve box covers
Submersible hydraulic WDP 3500 dewatering and WDP 4800 trash pumps
Telescoping and compact valve keys to reach valve operating nuts
Hydraulic breakers and replacement cutters, points and chisels
Hydraulic flow adapter to run Wachs DWS saws from skid loaders or backhoes
Air treatment module for pneumatic powered tools
Replacement control cable for the HC-100 Handheld Controller
Replacement hoses and filters for Wachs trailers, skid systems and vacs