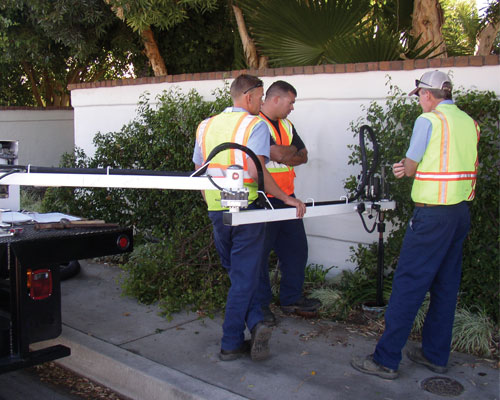 Turning, operating or exercising valves are different ways of describing a vital task in maintaining water infrastructure. Wachs Utility Products mounted exercisers are the ideal tools for operating or exercising valves, and for hard to reach valves and fast shut downs. An organization can have hundreds or even thousands of valves that must be "exercised", the process of running a valve through its full cycle to prevent sticking or freezing caused by factors such as tuberculation. For water organizations of all sizes Wachs Utility Products ERV-750 is the ideal valve exerciser.
The ERV-750 Extended Reach Valve Operator is the first choice of water system operators everywhere. It features hands free operation with an extendable arm that reaches out 13ft (3.96m) and provides 750 ft/lbs (1015 Nm) of torque, even when fully extended. The support system utilizes dual pivot points to reach over to any curbside valve box or hydrant, with a locking disc brake that holds the full torque of the machine while operating. The ERV-750 is offered in Low Stack models for mounting to trailers, skids, and flatbed trucks, plus a High Stack version for bumper mounting.
Wachs TM-7 safely implements AWWA valve exercising procedures on large valves, with the TM-7 fully conforming to the AWWA Valve Exercising Standard. Designed for stubborn valves, even ones you may already have scheduled for replacement, if it's not broken the TM-7 will likely turn it. The TM-7 allows a single operator to exercise valves from 6in to 60in (DN150-1500) safely and quickly.
Available as a standalone option with truck and trailer mounting options, it's offered in two models, the TM-7 SD Plus Standard Duty that develops up to 1500 ft/lbs (2034 Nm) of torque, and the TM-7 HD Plus Heavy Duty which develops 2500 ft/lbs (3390 Nm) of torque. TM-7 Plus models are fully compatible with VITALS Software and come standard with Bluetooth for communication with a variety of data logging programs.