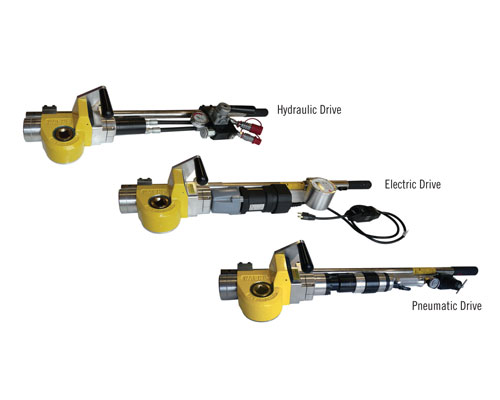 Handheld Valve Exercisers
Turning valves and valve handwheels is an vital task in maintaining water infrastructure. An organization can have hundreds or even thousands of valves that must be controlled, or in some industries "exercised", the process of running a valve through its full cycle to prevent sticking or freezing caused by factors such as tuberculation.
When a valve is connected to steel or ductile iron pipe has not been exercised regularly, dirt, rust and sediment known as tuberculation builds up around the valve, making it difficult or impossible to manually operate it when the need arrives, say during a water main break. Worse, simply putting too much force on the valve trying to turn it can break the valve stem, leaving costly replacement as the only option.
Wachs Pow-R-Drive 2, or P-2, along with the RS-2 handheld exercisers (operators) are the ideal tool for operating or exercising handwheel and rising stem valves, and are available in three different drive options. The P-2 is offered in your choice of high torque (HT) or high speed (HS) models, while the RS-2 is designed for use with rising stem valves.
Wachs handheld valve exercisers increase productivity, operator safety and valve protection. They are the perfect tool for hard to reach valves, valve exercising and fast shut downs. Portable for everyday use, and with multiple models available in electric, hydraulic or pneumatic power, they can deliver between 500 to 800 ft lbs of torque depending on the model. Both P-2 and RS-2 Rising Stem models are available with VITALS that offers recordability and advanced torque control.