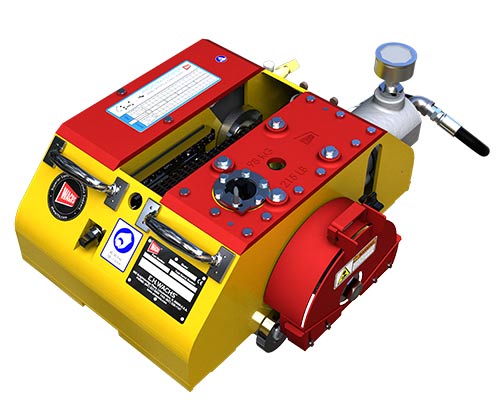 Trav-L-Cutter® SD Model E Air Kit
Trav-L-Cutter SD air powered Model E portable pipe cut and bevel milling machine with 6in to 72in (DN150-1800) capacity (optional drive chain sections required for OD greater than 48in). Includes anti-corrosion package with stainless steel components and special finishes.
Model E Air Kit comes complete with twin HD air drive motors (with carriage drive reversible), air line lubricator, drive chain 02-450-48 for 6 to 48" (DN150-1200) diameter pipe, operating hand tools, manual and steel storage case.
Optional 02-450-72 drive chain extension increases capacity to 72in (DN1800) diameter.