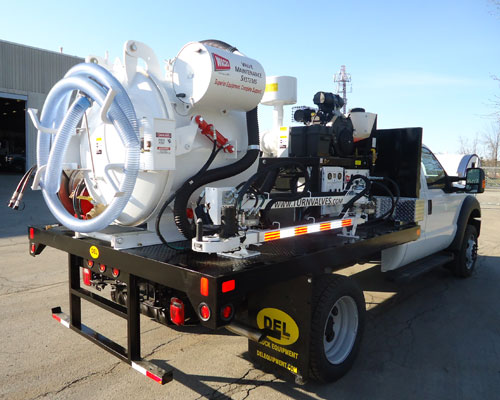 Wachs Hydro-Vac Skid, Gas includes all components pre-assembled to a steel "skid" that can be quickly bolted down to your flatbed truck. This unit is powered by a 27 HP gasoline powered Kohler overhead cam air cooled engine provides ample power for all contained functions.
Built off Wachs Standard Builder Skid platform, it can be configured just the way you want it, built exactly to fit your needs and budget. Its future upgrade path means you can order what you need today, knowing that you can upgrade it tomorrow.

The Standard Builder allows for an ala carte selection of our standard valve maintenance modules to be installed onto our heavy duty steel skid. The Builder platform's upgrade path offers maximum versatility – for example, configure a Hydro-Vac trailer with hydraulics today, add a ERV-750 Valve Exerciser later.
Wachs skid systems pre-install and pre-wire all the system components to a metal skid, ready to run, which only requires a few bolts to mount it to the truck flatbed, eliminating much of the labor expense. The skid that the equipment mounts to consists of 3" tall formed and welded frame with integrated 8" full length fork slot tubes.
A positive displacement blower provides 500 CFM-11in Hg vacuum, with spoils contained by a 250 gallon tank utilizing our exclusive hydraulic side and dump system and latching rear door. Also driven from the common power train is a 2.5 gpm @ 3000 psi pressure washer system with 3 gallon anti-freeze tank and 80 gallon vertical water tank. Includes 2-1/2in, 1-1/4in & 7/8" suction wands, short & long wash-down guns, 20ft suction hose and 50ft retractable hose reel.
Note a valve exerciser is not included with this unit. Valve exercisers can be ordered separately, or refer to our Standard LX Valve Maintenance Skid, Gas, that includes the ERV-750 exerciser.