Wachs Diamond Wire Guillotine® Pipe Saws

Wachs Utility Products are designed and built with safe and efficient operation in mind, for municipalities and water authorities learning to do more with less. Safety and efficiency can be intertwined, with Wachs Diamond Wire Guillotine pipe saws being a great example. Our newest innovation, the DW (Diamond Wire) Guillotine saws are available in two models, the DWG 208 and DWG 416.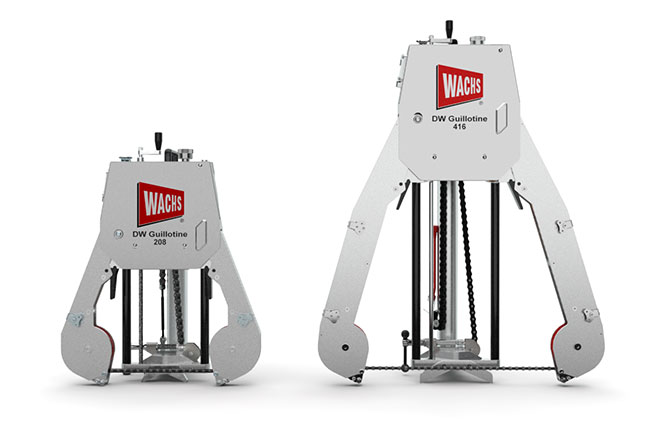 Wachs DWG series diamond wire pipe saws are a faster and safer method of cutting 2 inch to 8 inch (DWG 208) and 4 inch to 16 inch (DWG 416) pipe, including steel, ductile, cast iron, concrete (CA), poly, PVC and mixed media. Secured to the workpiece, DWG saws can be mounted vertically, horizontally or anywhere in between. These saws do not bind, eliminating the "kickback" dangers associated with gasoline powered handheld chain saws or abrasive wheel devices that can occur during pipe compression or shifting, a huge safety benefit.
Another benefit, besides the speed that these machines cut, is the large number of cuts each cutting wire delivers. The diamond cutting wire is designed to slightly rotate axially while cutting, constantly exposing new and fresh areas of the wire, allowing all the diamond elements to come into contact with the workpiece to maximize cutting life and performance.
Due to the longevity of the diamond cutting wire, Wachs DWG series saws feature one of the lowest costs per cut in the industry, a major ROI factor with a far lower consumables cost over the life of the machine. Don't choose between fast, cheap or safe for your next pipe cutting machine, choose Wachs DW Guillotine Saws and get all three.
Ease of Use
Designed with safety in mind, everything about this machine is geared toward operator safety, simplicity, durability, and performance. Its single person operation requires minimal excavation under the pipe, saving time, and allows for quick and easy set up. The operator controls and feedback gauge are top mounted, away from the cutting action. The top mounted feed screw controls the cutting motion - the saw does all the work, reducing operator fatigue.
Able to operate fully immersed in water, the DWG saws can be mounted vertically or horizontally. Running on sealed hydraulic power, the Diamond Wire Guillotine pipe saws connect directly to the Wachs HPU that drives the ERV-750 or TM-7, or to any standard Class II Hydraulic Power Unit, including the auxiliary hydraulic power circuits on many earth movers.
Each DWG Diamond Wire Guillotine pipe saw package comes complete with:
(1) Hydraulic Powered Diamond Wire Guillotine

(1) High density diamond wire loop assembly

(1) Shipping and storage carrier

(1) Operations manual

(1) Spray coolant and washdown system