DW Guillotine® Pipe Saws
Safer Saws for Water Utilities
Designed for water distribution and transmission lines, Wachs DW Guillotine diamond wire pipe saws are faster and safer tools. They can be used to cut water pipes like broken water mains and transmission lines, extract old water valves, remove old fittings and connections, and add new connections.
Now available for weekly or monthly rentals, renting Wachs DWG saws are a great option to see how this advanced pipe saw performs in your operations. Rentals allow you to "test drive" it before buyng, and are a great option for bigger projects where a large amount of cuts are required, or to supplement your existing pipe cutting technologies.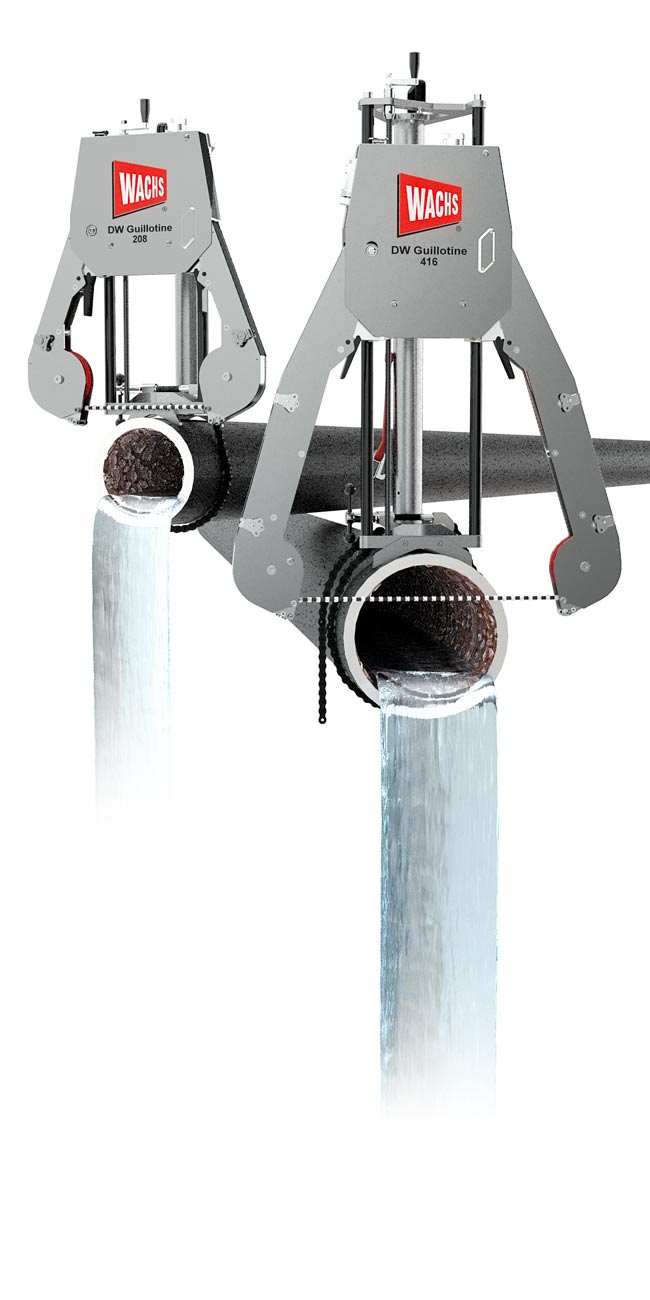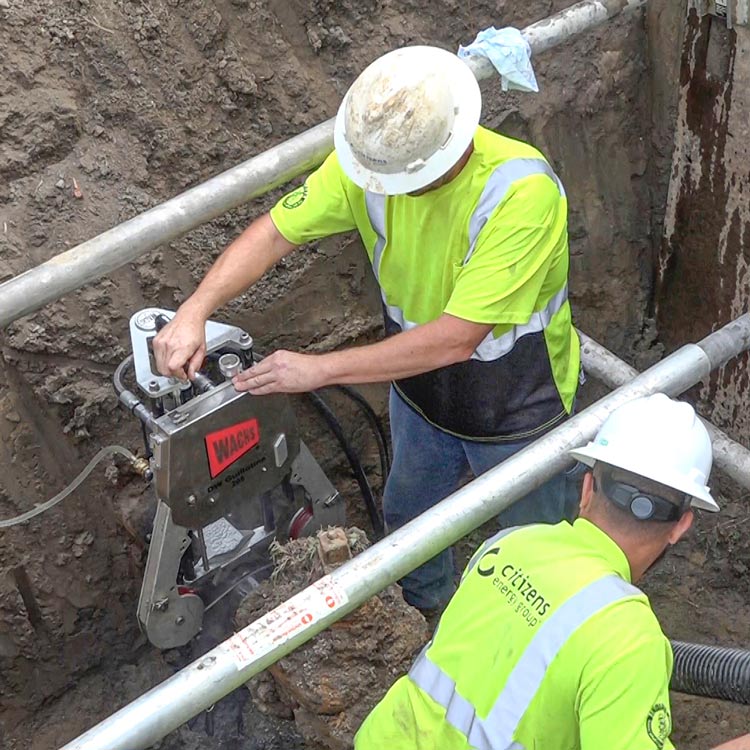 Safer for your crew
They're designed to make the whole process safer.
The saw does all the work, so there's less operator fatigue and risk.
DW Guillotine saws mount to the pipe.
Your crew won't be holding a heavy, high-powered chop saw or chainsaw to make the cut.
There is no risk of bouncing blades or "kickback" because it's mounted to the pipe.
No more engine exhaust fumes in the hole.
The diamond wire is inside a heavy-duty protective housing that keeps the operator out of harm's way.
The diamond wire does not bind like other saws and easily cuts through the pipe.
These machines cut fast, so your crew is in and out of the hole.
Available in 2 sizes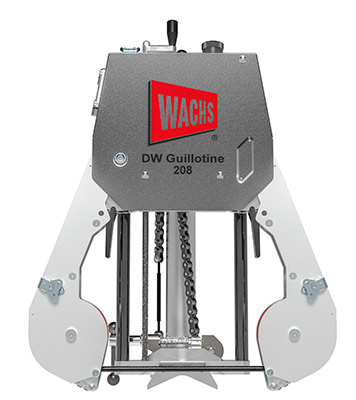 DW Guillotine 208
Cut 2-inch to 8-inch pipe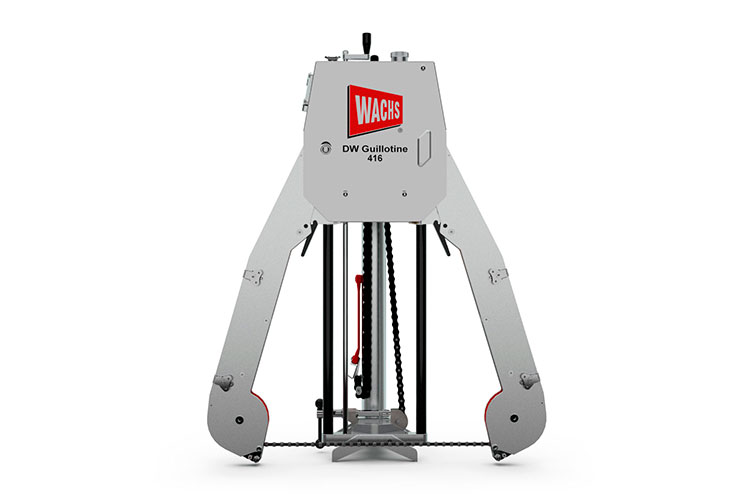 DW Guillotine 416
Cut 4-inch to 16-inch pipe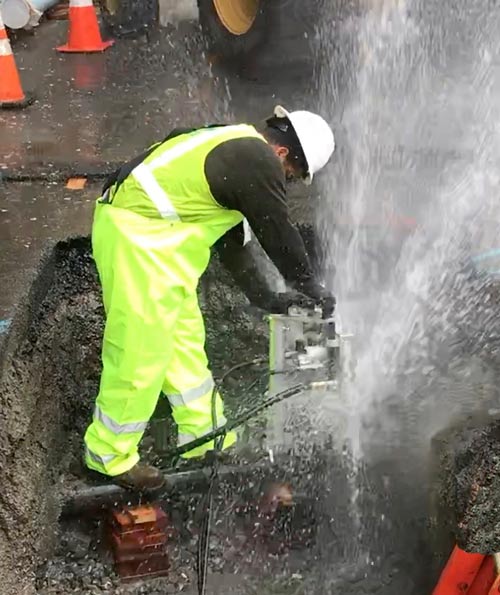 Purpose Built
DW Guillotine saws need less digging around the cut
Rugged, they can operate fully submerged in water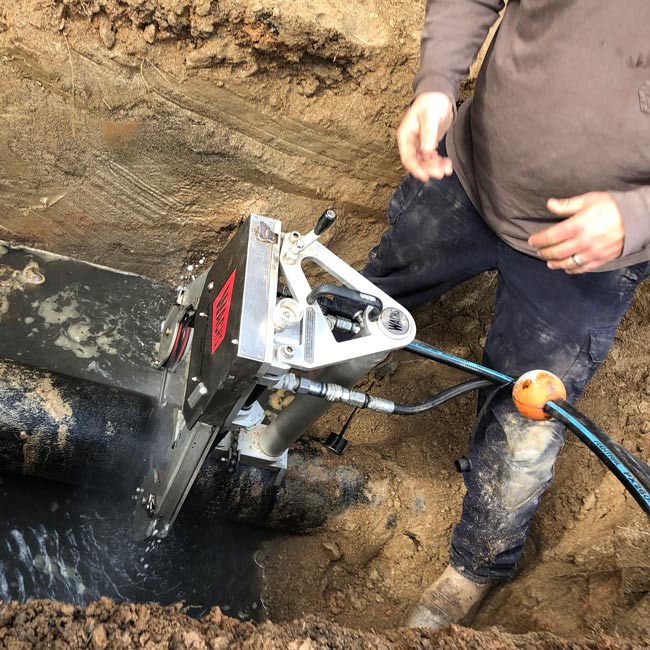 Easy to Use
Quick, Easy Setup

Unfold the saw
Mount it to the pipe
Hook up water and hydraulics
Set your cut pressure
You're ready to go.

The operator control handles and cutting feedback gauge are on the top of the saw, away from the cutting action.
Versatile
The diamond wire cable can cut:
Carbon Steel Pipe
Ductile Iron Pipe
Cast Iron Pipe
Cement Mortar Lined and Coated Steel (CMLCS) Pipe
PVC Polyvinyl Chloride
and more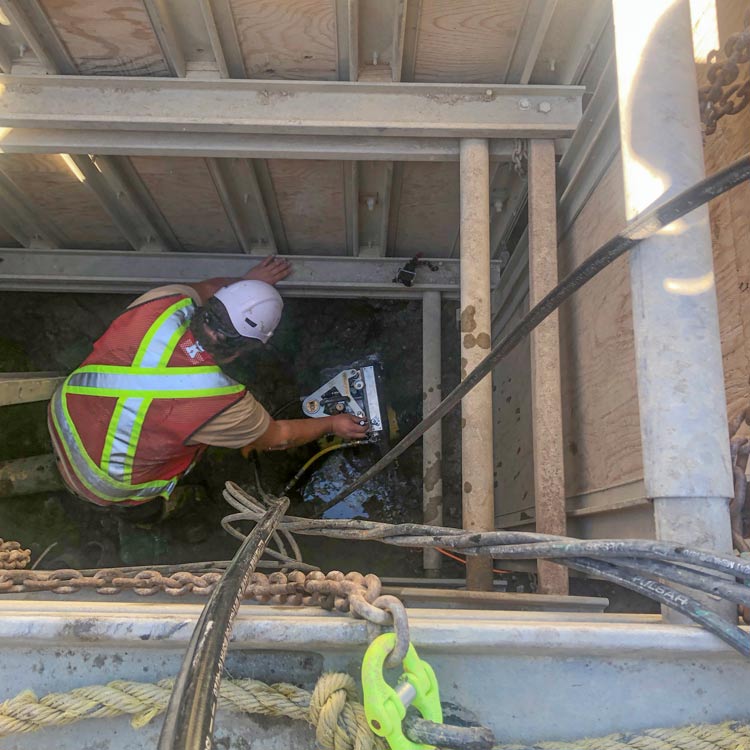 Cleaner Power
DW Guillotine pipe saws run on closed-loop hydraulic power.
They connect directly to any standard Class II Hydraulic Power Unit.
They can run off the Wachs HPU that drives your ERV-750 or TM-7 valve exercisers.
Or you can plug it into the auxiliary hydraulic power circuits on your excavator.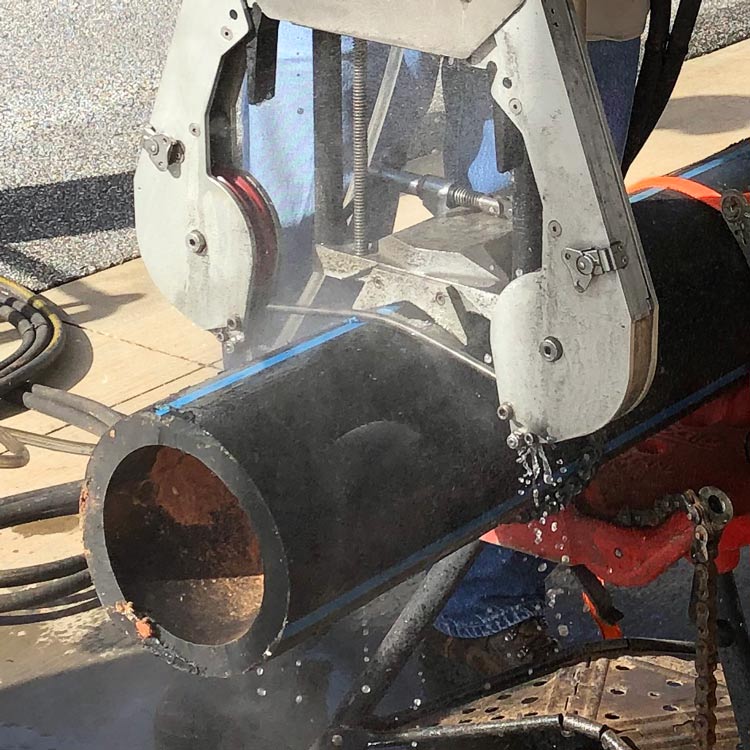 Lowest Cost Per Cut
Better life and performance of the cable
More cuts from a single cable. As the diamond wire is rapidly making its way through the saw, it's also rotating, so the next time that section of wire comes around for a cut, it's in a different orientation. So, the diamond abrasive material on the wire lasts a lot longer, and each pass is with fresher abrasive material.
Here's what's included:
(1) Hydraulic Powered Diamond Wire Guillotine Saw
(1) Heavy Duty diamond wire cutting cable
(1) Operating manual
(1) Can Lubricant
(1) Coolant/Washdown Tank