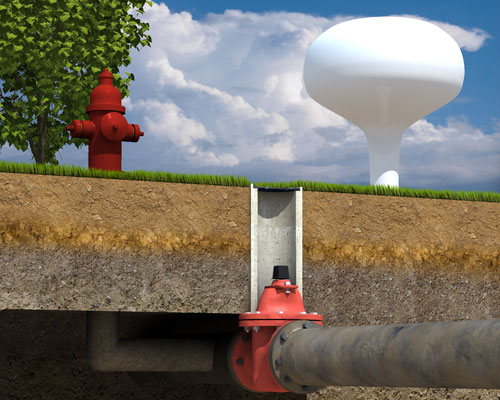 A water distribution system is an essential investment in the community's infrastructure. Consisting of pipes, valves and hydrants, each plays an important role in ensuring water service and quality. The ability to locate and operate valves in an emergency is imperative to the safety of the community. A valve maintenance program is an essential proactive program to identify and prevent deficiencies in a water distribution system.

In these challenging economic times we realize there can be concerns about acquiring equipment, with some organizations reluctant to allocate funds for maintenance. But keep in mind even the smallest towns, cities or water authorities can start small, and grow their valve maintenance programs over time. What's important is to start.

Choose to start small, knowing that every piece of Wachs equipment purchased, from a handheld exerciser all the way up to our largest VMT trailer, becomes a building block to an effective valve maintenance program.
With a Wachs valve maintenance system and two operators, even small to midsize organizations can implement suggested or mandated procedures for infrastructure maintenance, saving you expensive outsourcing while minimizing valve replacement and service outage related costs down the road.
Wachs offers a wide range of equipment to suit any municipal need and budget, from the simplest handheld valve exercisers up to a valve maintenance truck upfitted by Knapheide with a custom service body and our Service Body Valve Maintenance System. No matter how large or sophisticated your water operations get, Wachs Utility Products equipment is designed to grow with you. Let us help you get started, or help build on your existing program's foundation.