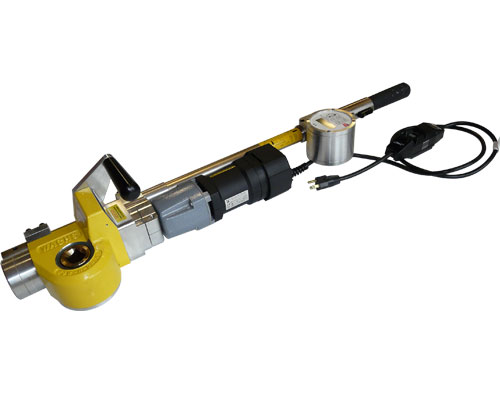 P-2 High Speed Electric 220V
P-2 (Pow-R-Drive 2) High Speed (HS) reversible handheld electric 220V 60Hz powered valve operator with GFI and overload protection. Complete with electric drive, LCD revolution counter, torque arm extension, manual and steel storage case. Datalogger sold separately.
Wachs Pow-R-Drive 2 or P-2 incorporates a 1in (25.4mm) square drive hub, allowing interface with standard 1in (25.4mm) square telescoping and non-telescoping valve keys or P-2 Handheld Exerciser drive sockets.
High torque reversible handheld valve operator 0-20 RPM with a maximum torque output of 500 ft/lbs. Valve key size 1" (25.4mm) solid, socket 2" (50.8mm) AWWA standard. Lightweight, one man operation with finger tip control of rotating direction and shut off, easy read LCD counter with automatic forward/reverse readings for accurate valve rotation information.